The History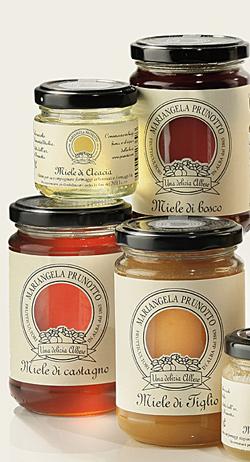 For quite one hundres years now we have a pure passion on honey production and we "pamper" our hives throughout the year.
Since long times, man has used honey as a food and this has benefited and wellness.
Beekeeping was widespread in Piedmont since the Middle Ages, for beekeeping hives were used of different shapes, made of wood or straw.
With the Renaissance was recorded throughout Europe a resumption of studies on the biology of the bee, neglected in previous centuries, the invention of the microscope gave a strong contribution to the knowledge of the insect.
In neighboring areas near Alba, immersed in the woods, hidden in the dense vegetation, in sunny places but wild, there are two small houses that enclose an old secret. These constructions have the characteristic to be made with great care and with very good taste, so much so that on one is a fresco, a sundial, the other of the porthole windows with brick friezes that rivals the modern construction techniques, with rooms decorated and fireplaces. In open country, both of great value and of undeniable beauty, these buildings were built by wealthy families and enter into a property of some importance. We do not know the daily use they had these buildings far from population centers: is it conceivable that they were used as storage of tools, to shelter animals and for rest and refreshment of those who worked in the country; little is known about the use of these houses as defense and crop protection.
The feature that makes them unique, and most likely in Piedmont in Italy, is the use of the same beekeeping. In practice in these houses you tried, in the second half of the 800, to breed in the walls of the families of bees for honey production. In one of them, in particular, has built a series of overlapping niches so as to form an actual wall, adapted to house as many as 54 families of bees.

This kind of farming in the nineteenth century was reserved for a tiny group of naturalists and scientists and has developed into an area naturally conducive to collect honey.
We hope that these little gems that have written pages of history in the growth and life of man can be preserved and studied in order to hand down to posterity the memory value.