Description
Beans are legumes, or edible seeds of plants belonging to the family Papilionaceae.
They are rich in fiber, beans contain protein, potassium, iron, sodium and magnesium.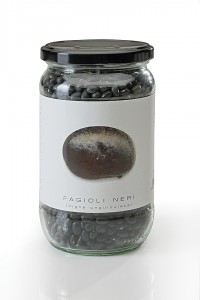 Elementary information
Name of the product: Black Turtle beans
Categoy: Beans
Net weight: 500 g.
Ingredients: Beans
Materia prima
Origin: Italy
Variety: Vigna unguiculata
Data of harvest: August
Way of picking: by hand
Varietal characteristics

The beans were known and cultivated since ancient times.
The first beans were from sub-Saharan Africa, while the beans, and many many other types, however, were discovered along with America. The American species of beans, native to Mexico and Guatemala, scientifically called Phaseolus vulgaris, spread rapidly in Europe, up to supplant that of Africa.
They are considered the meat of the poor, for the price and nutritional properties!
Once, the farmers used to put them to boil for the whole morning in a crock on the side of the coals in the fireplace, adding almost cooked some celery leaves, to serve, then, topped only by a drizzle of extra virgin oil.
Great in the preparation of side dishes and salads, however, adapts well to any culinary preparation.
It is very common in Italy and used for the preparations of countless dishes.
Allow to soak at least 12 hours and rinse before use.
Way of production

In the farm Prunotto Mariangela Alba, the  bean are first brought to the right degree of drying and then stored in a vacuum jar.