Description
The Prunotto Mariangela farm is based in Alba, the capital of the Langhe and Roero hill.
Ours is a particularly fertile ground that "gives" as fruits and vegetables of the highest quality and exceptionnal grapes to produce wines of great value worldwide.
The vine Moscato is an internationally grape because grown throughout the Mediterranean area but with different cultural variety.
Originates from the Mediterranean Basin Middle East. Vector of its spread in the southern Italian regions were the Greek colonists, who brought with them the seeds or branches to be able to grow in the Magna Graecia colony.
The spread to the north was mainly due to the Venetians in the Middle Ages.
The wine has a straw yellow color more or less intense, characteristic smell and fragrant Moscato and sweet, aromatic, distinctive lively.
So we've thought about turning the fine wine Moscato, very sweet and fruity flavor in this delicious jelly.
It well suited to be paired with cheeses ripened in walnut leaf, vine or laurel and sheep in general.
Also enhances the flavor of very fresh cheese like ricotta with its delicate flavor.
In addition to this delicious combination is suitable to accompany ice cream, yogurt or fruit salad.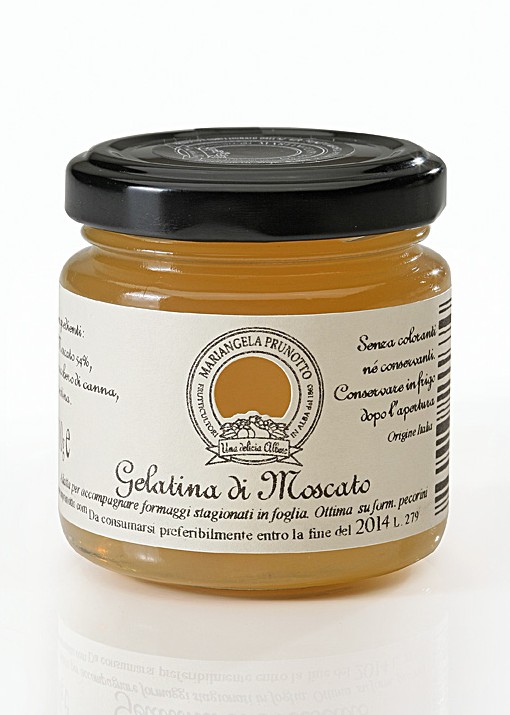 A more imaginative combination can also be a fresh mint granita.
It lends itself to sublimate and enhance the special recipes.  In general, the combination is very elegant with fresh flavors.
Elementary information
Product name: Wine jelly
Category: Meat and cheese jam
Net weight: 110g.
Ingredients: Moscato Piemonte Doc wine, cane sugar, pectine.
Production process
The entire production process is done completely by hand in order to preserve the flavor and fragrance of the raw materials.