Description
The Prunotto Mariangela organic farm is based in Alba, capital of the Langhe hill.
We thought to make this great Italian product to make it more palatable and to be able to taste a different and more innovative.
The result is exceptional!
A jelly that at first seems almost sweet taste and then slowly dissolves in the mouth gives off the typical aroma of the best aged balsamic vinegar; the classic sweet and sour.
And 'an indescribable sensation! … you have to taste it!
It is particulary suited to be paired with cheeses and territoriality definitely goes well with Parmigiano Reggiano cheese.
Also enhances the flavor of very fresh cheese like ricotta with its delicate flavour.
In addition to this delicious combination is suitable to accompany ice cream, yogurt or fruit salads.
A more immaginative combination can be next to a delicately sweet and even can be used to flavor a steaming plate of pasta.
It 's an extremely versatile and lends itself to exalt and praise the most innovative recipes.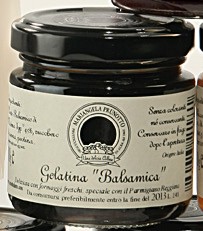 Elementary information
Name of the product: Balsamic vinegar jelly
Category:  Meat and cheese jam / cheese pairings
Net weight: 110g.
Ingredients: Balsamic vinegar jellyIgp, sugar cane, pectine.
Curiosity
But what is Balsamic Vinegar?
The term is commonly understood a balsamic vinegar dressing and sour characteristic historically produced in Emilia.
It is made from cooked seven varieties of grapes, which is naturally aged in wooden casks for at least 12 years.
Its high concentration of sugar initially develop a fermentation that turns alcohol into vinegar.
To make this happen we require "batteries" usually of small barrels made ​​of different woods to give the final product special scents and aromas.
Normally the "batteries" were placed in the lofts of farmhouses to allow evaporation of the product due to the high naturalmete temperatire that are reached in the summer.
Its production is regulated by a particular set of IGP.
Way of production
The entire production process is done completely by hand and most craft in order to preserve the flavor and fragrance of the raw materials.