Description
In our farm in Alba we grow from many years the William Pears. The pears are picked at the right point of maturity in late summer and their subsequent transformation occurs only with the addition of a typical sweet wine of the Langhe: Brachetto.
This is a different way to enjoy this very special summer fruit.
The pears are picked when ripe and are processed within few hours, adding the  syrup with Brachetto wine and sugar cane.
The result is a product preserved with the same characteristics of a fresh product with unique organoleptic properties and enhances the distinctive flavor of this particular variety of pear.
They are great to taste the natural, or simply opening the jar to make delicious desserts, and ice cream.
The syrup is exceptionnal to drink!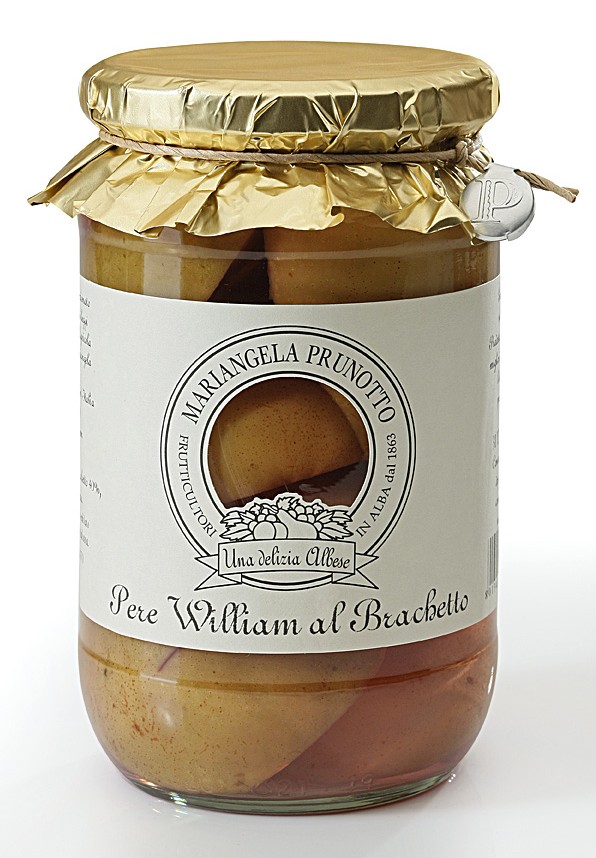 Elementary information
Name of the product: William pear in red wine
Category: Fruit in syrup
Net weight: 760 g.
Ingredients: Pears, wine, cane sugar.
Raw material
Origin: Piemonte
Variety: William pear
Way of cultivation: organic certified
Period of harvest: end June
Way of picking: by hand
Varietal characteristics
The William Pear  is one of the oldest varieties of pears grown more widespread and in agriculture.
The origin is from the same species Pyrus communis but it is a cultivar that was developed in England between the years 1765-1770.
Its name derives from its speaker a certain Williams.
It's a  pear so-called summer, since the collection is normally in late summer; is in fact one of the first variety of pears that are collected in Piedmont.
The fruit is medium to medium-large size, shape, or sometimes cidoniforme piriformis.
It has a juicy pulp, clear and very sweet.
Reaches the peak of ripeness in late summer.
The fruit has a light yellowish green color with the presence of lenticels, the pulp is ivory white.
The flesh is thin, dark and sweet and has a characteristic muscat aroma.
Way of production
The entire production process is done manually according to the old country tradition of home production of fruit in syrup consumed in winter-spring, in the absence of fresh fruits.