You will need
3 sheets of Isinglass
500 ml liquid cream
1 vanilla pod
150 g sugar
Chocolate topping
cherry syrup
chocolates
How to proceed
Soak the sheets of gelatine in cold water for 10 minutes and cut along the length of the vanilla bean.
Put the cream in a saucepan, add the vanilla bean cut, icing sugar and heat over low heat the whole, but not boil, wring well and soak the gelatine into the cream, then stir until it is dissolved completely.
Let cool on the panna cotta molds.
Just before serving, create the composition, putting two in the top of the panna cotta dish with the topping make the flower stems and grass and then used to make apricot leaves.
Decorate the panna cotta with a little 'black cherry syrup and a chocolate.
Buon Appetito!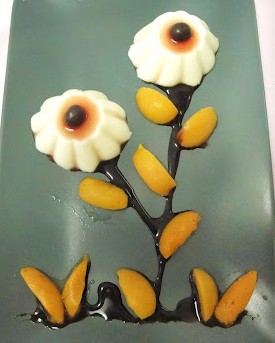 (Thanks to le zampette in pasta)