Waiting for spring..
The copious snowfalls of the last days have covered with a white blanket all our orchards that extend in the frame between the Langhe and the roero, place where the Azienda Agricola Mariangela Prunotto has been present for over 100 years.
There is a strong expectation in the countryside.
The pruning has been carried out and the wait for the arrival of spring and for the recovery of the lym
phatic plants is strong, even if it's not enough to eliminate the concern for the anomalous cold in this late winter. In reality, the cold in this period (except for exceptional peaks) does not affect the metabolism of plants too much.
It should be noted however that the same situation after the awakening of the plant (with the first buds) could have disastrous results on the year due to the phenomenon of spring frosts. In this type of events, more and more frequent due to climate changes, the gems, not ready to survive with cold temperatures, are hit by waves of cold that burn them causing a disastrous outcome on the harvest.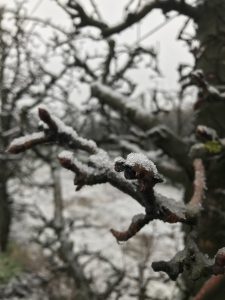 The colors in the countryside are off, enlivened only by the white of the snow that slowly disappears with the increase in temperatures.

It is the best time of the year to be pampered by our products. A tart with our extra black cherry jam next to a coffee can color monochromatic afternoons and pamper you, sheltering you from this cold.
Preparing this tart is very easy. Take 250 grams of flour to which you will add half of butter. Once kneaded, add a lightly beaten egg and 100 grams of powdered sugar. Form a dough and leave it to rest for about an hour in the refrigerator wrapped in a film, roll it into a 12/15 cm mold (about 4 people), prick with a fork and cover with extra black cherry jam before cooking it for about 50/60 min in a static oven at 160 degrees.
A simple recipe that warms up the hearts of adults and children by bringing back pleasant memories.