You will need
How to proceed
Put the beans to soak for 24 hours. The next day, put them in a pot with cold water and bring to a boil. After 5 minutes, drain, remove and discard patiently all the cuticles on. I've done it before boiling them, and 'simple enough but it is even easier after they are boiled at least a little.'
Put on the fire with other cold water and boil a second time for an additional 5 minutes.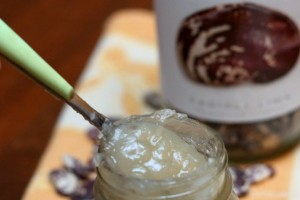 Drain and put on fire the third time, again with cold water and low heat. This time Boil for 40-45 minutes or until they are fully cooked.
Drain the remaining water and set aside.
Add sugar in the pan and start stirring constantly over low heat until all the beans are not cleaved and the cream is a bit 'thick.
If you are too dry and the beans are not yet cleaved add a tablespoon at a time the cooking water aside.
It keeps in the fridge for a couple of weeks or in the freezer for a couple of months, if by!
Buon Appetito!
(Thanks to Food & Craft)