The harvest of the apricots: one of the most loved fruits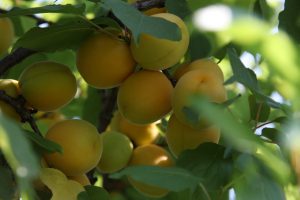 After their breathtaking blossoming with petals in various shades from pink to pure white it is now the time of the first apricots.
Gorgeous orange colored spots light up our fields at the fist sight from the laboratory of the organic farm Prunotto Mariangela.
We are in the heart of the Langhe and Roero, in Alba.
We've been growing and processing our fruit and vegetables in the amazing setting of the hills of Alba since more than 130 years.
And ,as always, we are ready, to collect and process one of the fruits that gave us more satisfaction in the last years.
It's early in the morning when it starts the harvest of the first ripe fruits.
It will take place in several steps to collect only the apricots at the right point of ripeness.
As soon as we pick them up they are already sent to our laboratory to be processed.
The fresh apricots will be worked by the hands and minds that continue the great Piedmontese housewife tradition.
Our apricots are grown in a method called alberello (small tree) that allows the plant to reach two to three meters in height.
Due to this, the plant could tolerate low temperatures but the early flowering makes it subject to possible spring frosts.
In the dish..

In the dish of course it's time of the year to taste our apricot extra jam with all the aromas of the fresh fruit and her amazing scent.
It's one of the most consumed jams worldwide and a reference point for every breakfast.

As an alternative, you can taste our apricots in syrup: the fruits are washed and put into jars by hand in a syrup of water and cane sugar. You'll find the kernel inside, in a way that gives the fruit a pleasing hint of almond.

In the end, you can taste one of our specialties such as apricots and amaretti pureè or something more particular as a sweetomato apricot pasta sauce in which you'll find a sauce made from tomatoes, apricots, extra virgin olive oil, salt and spices.
Probably, the apricot is the fruit with the most incredible amount of uses, from the classics to the one more based on the imagination.