You will need
 200gr. rice
1 liter of whole milk
a little bit of cinnamon
40 gr. soft butter
50 gr. macaroons
200gr. sugar
2 eggs
2 egg yolks
icing sugar
How to proceed
Boil the milk with 100gr. sugar, cinnamon and a pinch of salt. Add the rice and cook over low heat until it is absorbed all the milk.
Remove the rice from the heat transfer it into a bowl and let cool. Add amaretti crumbs, eggs, egg yolks and stir.
Put the remaining sugar in a pan with a diameter of 25cm round and place in oven at 200 °C until you obtain a caramel amber color. Pour the caramel apples compote on top of the rice mixture and level off well by beating the pan on the table in order to avoid air bubbles.
Bake the cake in the oven at 180°C for about 40min.
Then let it cool and overturn on a platter and serve with powdered sugar and caramel.
 Buon Appetito!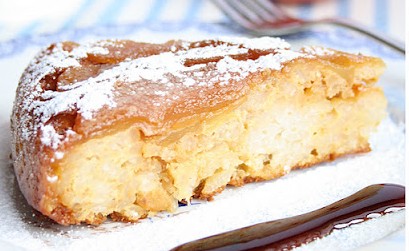 (Thanks to Farina, lievito e fantasia)