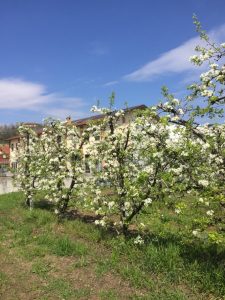 Spring in Alba
The colors animate our countryside and our company. In the sky, in a growing warmth, it's possible to see the first hungry honey bees looking for some flowers.
It's the blooming to color this corner surrounded by the Langhe and Roero. Here the organic farm Prunotto Mariangela cultivates its own fruit and vegetables in the greatest respect of the nature and the consumer.
The flowers of the apricots and the peaches are the first to open the dances followed by cherries. The colors of the petals, with shades from pink to pure white donate to our rows a fairytale appearance, bringing us back to our childhood.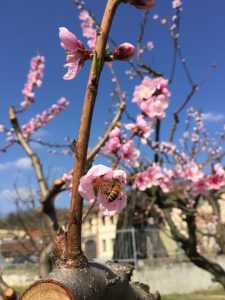 But not only the view is gratified.
A beautiful scent invests all the orchards with its significant aromatic notes.
The days begin to get longer. There's still a concrete risk of frosts that could cause irreversible damage to the crop.
The cultivation of fruit trees in lowland areas or surrounded by the hills since early years was an attempt to fight the damages of frosts.
About the terroir: it is important to remember that our area is particularly suited for the cultivation of fruit trees. Thanks of its extraordinary micro climate shaped by frequent temperature changes that enhance the level of sugars in the fruit.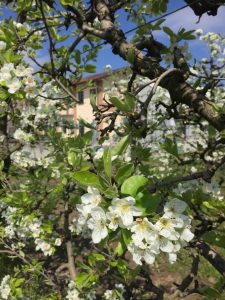 In the plate now we leave room for lighter dishes and spring goodies.
The Apricot extra jam and the Peaches extra jam bring us back to our childhood as the sight of blooming orchards.
In our products is the fruit to have the whole stage.
We use on average 150 to 160 grams of fresh fruit every 100 of jam. In a product with only two ingredients: fruit and brown sugar.
Authentic and forgotten flavors, a grandmothers' jam, a world of memories and emotions every spoon.