Chocolate cake and Madernassa pears in Dolcetto wine Prunotto
You will need
400 grams of

homemade

pastry




200

ml cream




2 tablespoons of

white cane sugar




50 grams of

butter




200 grams of

dark chocolate

fudge




two tablespoons of

milk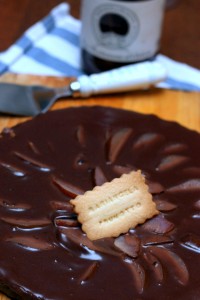 How to proceed
Roll out the pastry (if you prefer you can season it with a teaspoon of grated lime zest ) and line a tart pan .
Bake the pastry in the oven at 180 ° taking care to cover it with a sheet of parchment paper and relying on the chickpeas or dried beans to keep it up during cooking. After 15 minutes remove the baking paper and beans and continue to simmer for another quarter of an hour.
Prepare the cream by putting the cream and sugar in a saucepan and bring to a boil. Not just starts to simmer turn off the heat and add the butter and chocolate in small pieces.
Stir until the chocolate has melted , and let stand a few minutes.
In the meantime, drained and sliced ​​3 Madernassa pears from Prunotto Mariangela organic farm .
Take back the cream and stir , add a tablespoon of milk at a time, always turning with the whisk slowly until it is shiny .
Pour a layer of pastry cream into leaving by about a third.
Arrange the slices in an artistic way of pear and cover with the cream aside .
Let cool in the fridge for a few hours.
Buon Appetito!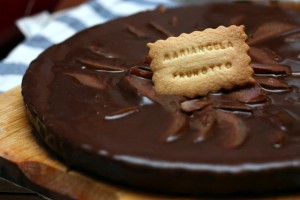 (Thanks to Foods & Crafts)