You will need
 500 grams of flour kamut
120 grams of malt
120 ml of corn oil
40 ml of lukewarm water
100 ml of rice milk
a pinch of salt
1 tsp vanilla
1/2 lemon (zest)
1 packet of yeast
20 grams of fresh yeast
How to proceed
Dissolve the yeast in the water.
Mix the dry ingredients in a container and part add the malt with the oil.
Now together the dry ingredients and liquid working the dough until you get a smooth dough and soft.
Cover with a cloth and let stand for at least 1/2 hour.
After this time, take the dough and knead it with a rolling pin until you get a sheet of 5mm.
With a wheel cut into triangles. Place the jam at the base of the latter and rolled it all.
Let it sit for about 1/2 hour, then bake at 200 degrees for about 15 minutes …
Buon Appetito!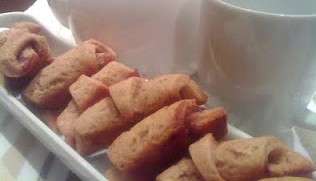 (Thanks to Il Cucinotto)