You will need
Ingredients for the pastry base
200gr of flour type 0
50 grams of cocoa powder
60 g of malt
60 ml of corn oil
70 ml of warm water
1 pinch of salt
10 grams of yeast
Ingredients for the filling
120 grams of chocolate
2 C of corn starch
How to prepare
Mix the flour, baking powder, salt and cocoa in a large bowl.
Apart from the malt dissolve in the oil and finally stir all ingredients together.
Try to work the dough to make it more 'homogeneous as possible and let it rest for about an hour.
Get ready to cut roughly pear, chocolate and mix together with the malt and starch.
Roll out the dough into a baking dish and sprinkle the base with a light coating of breadcrumbs.
Pour the fruit and chocolate and try to distribute evenly.
Bake at 190 degrees for about 30/35 minutes.
Buon Appetito!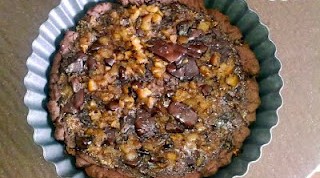 (Thanks to Il Cucinotto)