You will need
 300 g. flour 00
80 g of butter
100 g of sugar
2 eggs
1/2 tablespoon baking
grated lemon rind
2 jars of grapes in Moscato grappa Prunotto Mariangela Organic farm
40 gr amaretto
200 ml of homemade custard
2 tablespoons of chestnut Blossom honey Punotto Mariangela Organic Farm
How to proceed
Mix by hand and quickly butter, flour, sugar, yeast, eggs and lemon zest and ax stand for about 20 minutes in the refrigerator.
Add honey to one drained.
Sendere the dough to obtain a layer of about 1/2 cm.
Spread the bottom with the custard, put the grapes side by side and brush with honey. Sprinkle with crumbled amaretti ututto.
Bake in a preheated oven at 180 ° C for 35 minutes.
Buon appetito!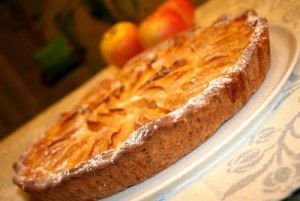 (Thanks to Fashion Flavours)