You will need
a turkey breast (800 kg)
80 grams of bacon
sage
rosemary
salt
pepper
extra virgin olive oil
FOR THE SAUCE OF CHERRIES AND ONIONS :
How to proceed
Heat oven to 180 ° C.
Open book in the turkey breast.
Prepare a mixture of rosemary and sage and spread it on the rump.
Arrange the bacon slices on top, roll up and tie with kitchen string well.
Rub the outside with salt and pepper.
Fry in a pan with a little olive oil on all sides, sprinkle with a bit of juice made ​​from cherries in syrup.
Go in a hot oven for about 1 hour.
FOR THE SAUCE:
In a small saucepan dissolve oil and sugar and pour the onions first so that you caramellizzino slightly …. then add the cherries pitted the two vinegars, ginger and a tablespoon of cherry syrup (always to the jar in which they macerate cherries).
Bake for about 30 minutes ….. that 'when the sauce will be' thickened slightly.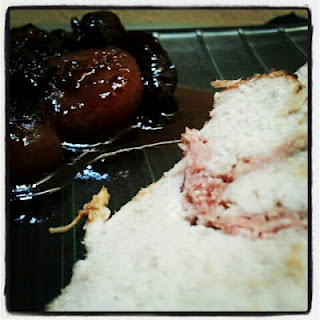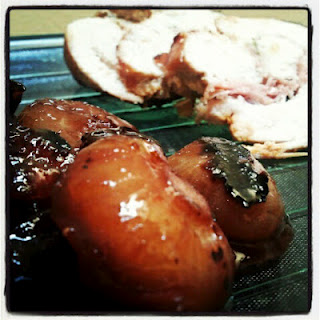 (Thanks to
Le ricette di Micol
)