You will need
FOR THE PASTRY

380g

flour

00




159g

sugar




1 pinch of salt




3

eggs (2

+ 1

whole

red)




150g

butter
FOR THE FRANGIPANE CREAM

100g butter
100g sugar
1 egg
100g

almond flour

30g

cornstarch
FOR THE FILLING

Hot to proceed
Prepare the pastry: sift the flour, mix it with sugar and a pinch of salt.
Knead with hands the softened butter and the dry ingredients. When everything is well mixed, add the eggs, one at a time.
If the dough seems already quite homogeneous after adding two whole eggs, do not put the red of another egg. Form a ball and let rest in refrigerator for at least 30min. Meanwhile, prepare the frangipane.
For the frangipane: whip with electric whisk the softened butter and sugar to get a frothy, then add the egg and then the sifted flour. Lay the pastry in the time I rotate tart; garnish it before with jam and then roll over the frangipane cream (you can help with a pastry bag).
Bake for 35 minutes at  180 ° C.
Buon Appetito!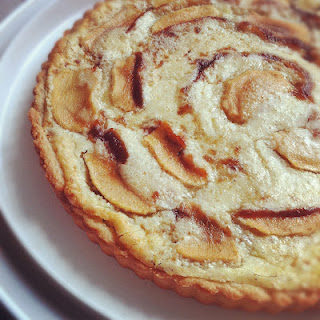 (Thanks to Torsolo di mela)