You will need

How to proceed
Crumble the biscuits and in the meantime, melt the butter in a small pan.
Combine butter and biscuits and cover the bottom of four glasses pressing well so that you compact the whole thing (remember to keep a little of this mixture aside for the final decoration), put in the fridge until needed.
Soak gelatin in cold water for about ten minutes.
Meanwhile, heat the milk before it reaches the boil and turn off the heat and add the squeezed gelatine bene.Mescolare and let it cool.
Mix yogurt and honey and add to the milk.
At this point take the glasses from the fridge and pour the mixture on the bottom of biscuit yogurt and milk.
Put in refrigerator for a few hours.
Before serving, decorate the surface with the mixture of biscuit and chocolate melt advanced coarsely chopped.
Buon Appetito!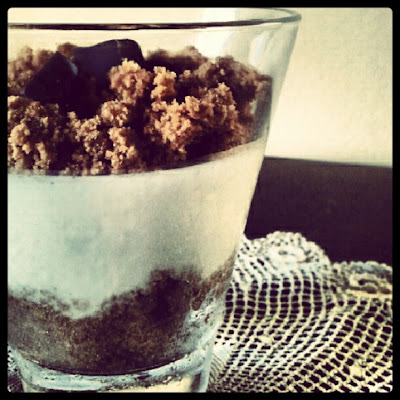 (Thanks to Le ricette di Micol)