… delicious …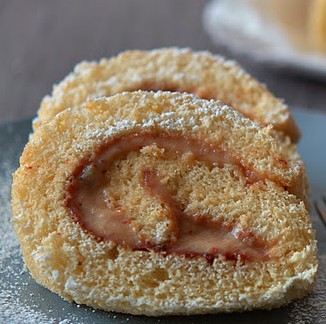 We will need
3 eggs
3 tablespoons of boiling water
120 gr of sugar
1 pinch of salt
Grated zest of one lemon
75 gr of flour
50 gr of wheat starch
4 gr of cream of tartar
4 gr of baking soda
For the filling
2 eggs yolks
2 tablespoons of sugar
2tablespoons of wheat starch
1 piece of lemon zest
50 gr of amaretti cookies
90 gr of Madernassa pear in Moscato wine Prunotto M.
Directions
Separates the white from the yolks.
Combine the yolks with the boiling water and beat with a whisk vigorously. Combine sugar, salt, lemon zest with the yolks and continue whisking until the mixture is white and fluffy.
Beat the egg whites until they look thick and white.
In another bowl combine flour, wheat starch, cream of tartar and baking soda.
Add the flour mixture into the eggs mixture and whisk vigorously.
Finally add egg whites.
In a bowl sift the flour, frumina, the cream of the bicarbonate and the mixture and combine them with eggs stirring vigorously.
Finally Combine egg whites gently with a movement from the bottom up.
Pour the mixture into a baking pan covered with baking paper. Level the surface and bake in a preheated oven at 190 degrees for 12-15 minutes. Remove from oven and immediately unmold on a clean cloth. Very gently remove the baking paper and roll the base making sure that the part will be previously attached to the outside of the roll paper. Allow to cool.
Beat the egg yolks with the sugar and the wheat starch.
Join the warm milk and transfer the mixture into a small saucepan.
Add a piece of lemon peel and bring to a boil over low heat stirring constantly.
When the cream thickens remove from heat, discard the lemon zest and transfer the cream in a dish to cool.
Finely chop the macaroons and add to the cream. Cut the pears into small pieces and add them to the cream.
Unroll the roll now cold, spread with cream, roll back and let stand in refrigerator several hours before serving to make sure that the filling binds with the roll.
Just before serving, dust with icing sugar.
Buon Appetito!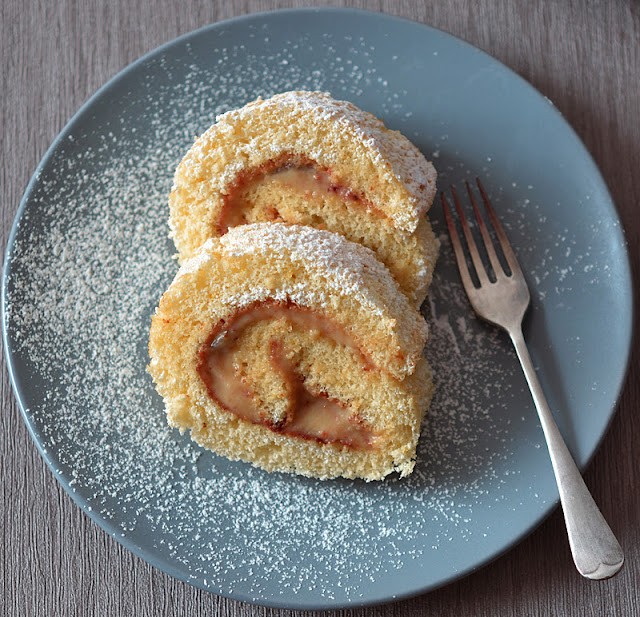 (thanks to L'appetito Vien leggendo)