You will need
For the roll sponge cake
4 eggs
120 gr. sugar
120 gr. di flour
1 pinch of salt
For the filling

400 gr. di crea,
4 spoon powdered sugar
100 ml. water
100 ml di alchermes (liquor)
How to proceed
Start preparing the sponge. Divide the egg yolks and put them the albumen divided into two containers. Put egg whites in a pinch of salt and whipped until stiff. Keep aside.
Take the egg yolks and add sugar. Whipped until frothy. Then add the flour and work well.
The mixture of egg yolks together the egg whites and stir gently with a wooden spoon from the bottom upwards, so as not to deflate the compound.
Line a baking sheet with parchment paper and pour the mixture, leveling them well and covering the entire surface. Bake in a preheated oven at 180 ° for about 10 minutes.
In the meantime, take a clean kitchen towel, roll it out on a flat surface and sprinkle with powdered sugar. As soon as the sponge is cooked, remove from baking sheet and still warm adagiatelo on canvas. Roll it. Once wrapped let it cool.
Take a clean bowl and pour in the cream with the icing sugar and mount. Adjust however the amount of sugar according to what you want to be sweet.
Take the apricots, take off the core. Please keep a few for the final decoration, the other cut into small pieces.
In a bowl combine the water and the alchermes to prepare the syrup.
Now you just have to assemble the cake. Shoot the sponge now cold, unroll it, being careful not to break it with a paintbrush and moisten with the syrup prepared. Lie then inside the whipped cream. Now you have the cream apricots and rolled again.
Buon Appetito!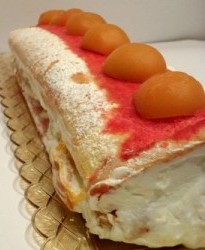 (Thanks to Nella Cucina di Laura)