SPRING IN ALBA!
The organic farm Prunotto Mariangela has always cultivated its own fruits and vegetables in Alba.
The very first warm rays of sun light up this morning our company bringing with them the awakening of the nature in this amazing land surrounded by the Langhe and Roero.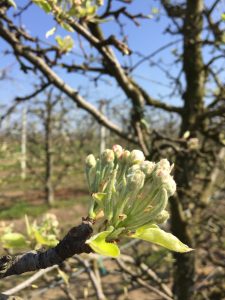 It 's springtime and is not a coincidence that its etymology comes from the Latin "ver" which means "to shine."
This period is very important: the countryside wakes up, the colors emphasize the incredible different shapes of the nature; the cycle and the circle continues from where it was closed through the winter.
Pruning
The winter-spring link is underlined by pruning which consists in the elimination of some branches to encourage the growth and the production of fruits helping, in addition, to prevent (or treat) certain diseases of the plant.
The lunar cycle has always had a particular importance in the rural world and also in this case it's crucial: it is always better to operate in the waning moon periods in order to make the pruning more efficient regarding the aspect of the production of fruits.
Regarding the nature of the work, the rule is that it is always advisable to prune less on young trees while having a work in deep on the older trees.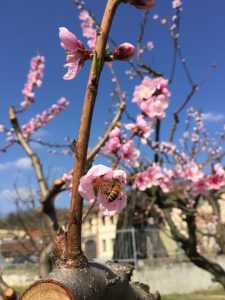 And regarding the distance of pruning on the branch? The general idea is to look at the gems, leaving only one of them, having an incision on the trunk at 45 °, about a centimeter away.
In our orchards we see the first gems, in quantity.
It 'a rebirth: from the darkness and the cold with the sun and the heat we have the restart of the life-cycle suggesting us that it's time to start again with the earth works.
The spelt (Tritticum monococcum, old and appreciated variety), already born in the winter, begins the phase of growth, peaches and apricots won't wait much more with their beautiful bloom.
Our hopes are completely in the goodness of this season especially in avoiding spring frosts which may freeze our first and unprepared gems.
The color animates our country, ready for a new season.
In the plate, this time is the last period of the year in which you can taste our Ottofile corn flour, ancient and great variety of corn ideal for the preparation of polenta.