You will need
200 g of pappardelle
 50 g of bacon
 1 box of pastry crust
 salt
How to proceed
Cook the pasta as usual, only taking it to the tooth.
Meanwhile, prepare the sauce. Heat up the bacon in a pan, cut into tocchettini, then add the sauce and cook briefly. If the sauce will look too thin, add a little oil, but not too much, and salt.
Line a teglietta not too small with the pastry crust, without removing the wax paper with which it is sold, pour the dough then cover the edges of the crust. As you can see from the image if the cake does not close perfectly is not a problem, indeed.
Bake in the oven for about 25 minutes at 220 ° C. Check the cooking of the dough crust before turning out.
Buon Appetito!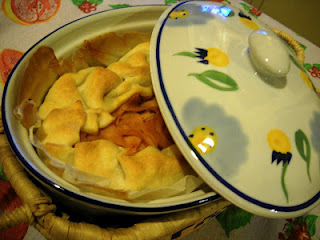 (thanks to L'angolo della Casalinga)