You will need
200 grams of

margarine




200

grams of sugar




300 grams of

wheat flour




4 eggs




1 packet of yeast




1 cup of

plain yogurt




6

golden apples




1 tablespoon

cinnamon




a few cloves




anise seeds

to taste




nutmeg

to taste




1 small glass of

whiskey



How to proceed
First, peel and dice apples, put them in a saucepan with a little bit of water and add the cinnamon, cloves, aniseed, nutmeg and 50 grams of sugar. Let them cook adding whiskey when you have softened, then let on flavor and continue cooking, so turn off the burner only when it will be reduced to a pulp. Let it cool.
To prepare the dough I used an electric mixer fitted on the planet, I suggest to you also. So you start letting the butter soften for a few minutes, then mix it with the sugar until it has formed a unique compound, homogeneous, to which you add the eggs. While continuing to knead the mixture, add the flour and baking powder, yogurt and then apples.
Grease well the muffin cups and pour the mixture until halfway, then sprinkle the base with the jam, like the one I used, and caramel apples Company Prunotto, then pour the rest of the dough to cover. Bake for about 20 minutes at 160 ° C.
When the cake is ready waiting for it to cool down good to remove it from the mold, then turn it over and sprinkle with powdered sugar and chopped pine nuts.
Buon Appetito!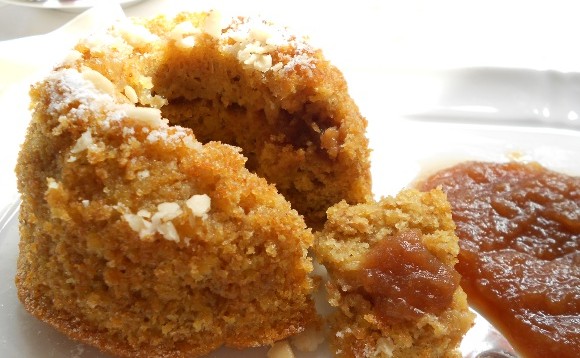 (Thanks to Sto Mondo e quell'altro)