You will need
For the dough:
150 g butter
150 g sugar
150 grams  hazelnuts inpowder
140 gr flour 00
135 g buckwheat flour
2 egg yolks
pinch of salt
4 g of baking powder
1/2 teaspoon cinnamon
– For the filling:
2 apples
50g butter
100g of sugar
Process
In a bowl mix together, helping with electric whips, sugar and butter until creamy, then add the egg yolks and rum.
Then pour flour (oo, buckwheat and nuts), salt, baking powder and cinnamon and mix well until the mixture is homogenous.
We train, with his hands, a ball and let him rest in the fridge for about half an hour.
After this time hold out the 3/4 of the dough on a sheet of oven paper  with which we will then cover the pan.
For the filling
In a nonstick skillet, cook the apples do, cleaned and cored, cut into cubes, with the sugar and butter, stirring occasionally, until the fruit is not soft.
So scoliamola amalgamiamola and the apple jam.
We pour mixture over the base of the compound thus obtained livellandola well with the back of a spoon.
Roll out the remaining dough and from this we derive the cross strips on the surface of the tart, then fall back on board to form a cord.
Bake at 170 degrees for about 35 minutes or until surface is golden.
Let cool and Sprinkle lightly with powdered sugar.
Buon Appetito!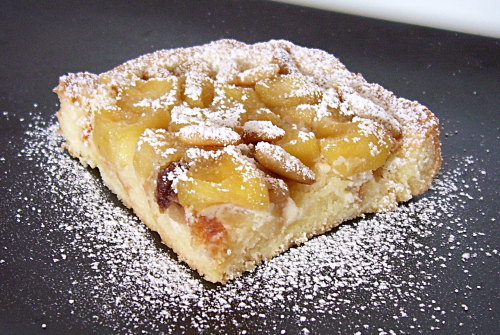 (Thanks to Pasticci & Pastrocchi)