You will need
 250 grams of sugar
 3 eggs
 300 grams of flour 00
 100 grams of peeled and chopped almonds
 1 tablespoon vanilla sugar
 1 packet of yeast
 grated lemon peel
 half a glass of milk
 a teaspoon of almond flavoring
 100 grams of butter, softened
How to prepare
Work the sugar with the butter, when the compound is well homogeneous, combine eggs at room temperature, the flour, the lemon peel and the chopped almonds.
Add the milk, vanilla sugar and finally the yeast.
Working just long enough to mix the yeast well and then transfer everything into a buttered mold.
Bake at 180 ° C for about 30 minutes.
Once cooled cake, cut it in half and stuff with jam and chopped cherries in syrup.
Sprinkle with powdered sugar and cherries in syrup.
Buon appetito!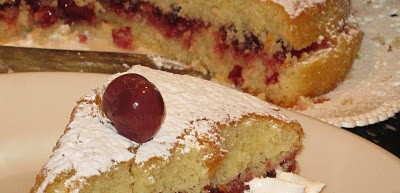 (Thanks to I Pasticci di Luna)