You will need
How to proceed
Blend cookies to obtain a very fine powder . If you would like me to leave some bit bigger to do as well , knowing that this will make the cheesecake more rustic and less uniform .
Melt the butter in a saucepan , add the biscuits then pour the mixture into a springform tin . Leveled the bottom of the cake very well , compacting biscuits and butter with the help of a spoon. Leave in oven to cool at least 10 minutes .
In the meantime, ill-fitting cream, sugar coat it if it is not already , and stir gently Philadelphia. I took the light , lighter and with a taste more suited to desserts. I know there's also Yo, suitable for desserts, but I will say that it tastes too heavy for this realization.
Pour the cream with the Philadelphia over the biscuit base of the cake , obviously without removing the mold of the pan , and refrigerate at least a couple of hours .
Just before serving, helping pull the cheesecake from the pan with a wet knife and cover it with apple compote and caramel.
Buon Appetito!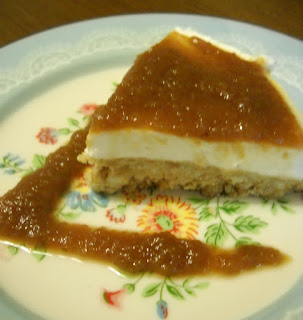 (Thanks to L'angolo della Casalinga)