You will need
For the crust ingredients are:
380 gr flour 00,
200 gr butter,
100 gr white sugar,
100 gr sugar cane,
3 eggs,
For the filling:
50 gr dark chocolate,
5 crunchy cookies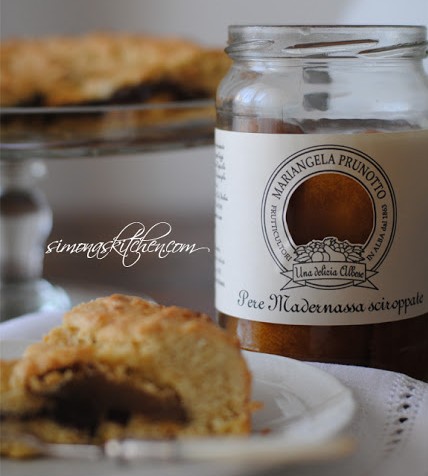 How to proceed
Melt butter with flour and eggs, then sugar and shape a ball, press lightly in the centre, cover and let it rest for 30 minutes in the fridge.
Take 2/3 of the dough and roll it, lay into a mould of 26 cm diameter, make small holes on the bottom.
Crush cookies and sparkle on the bottom of the dough, add chocolate chips, too.
Cut
pears
into slices and add to cookies and chocolate.
Roll the remaining dough and cover the tarte, close well and cook at 180°C for 40-45 minutes.
Chech cooking with a toothpick.
Crust will be friable, while the filling will be smooth and creamy.
Buon Appetito!
(Thanks to Simona's Kitchen)