You will need
For the Besciamella (Bechamel) :
4 table spoons of olive oil
5 table spoons of plain flour
1 pint of milk
salt
grated nutmeg
8 sheets of fresh lasagne
1 courgette
2 peppers (yellow and orange was my colour choice)
1 aubergine
salt and pepper
Hor to proceed
Prepare the beschamel.
Heat the olive oil in a saucepan, at medium heat. When it's hot add the plain flour and stir until you'll get a brown and smooth mixture.
Now you can add the milk at room temperature or slightly warm, cook for 15 minuts, continuosly stirring until it becomes creamy.
Now, add salt and grated nutmeg.
The fresh lasagne do not need any pre-cooking. So proceed with washing and slicing the vegetables that you are going to grill.
Cut the peppers into strips, removing the seeds and  the filaments and grill them too. Salt them.
Preheat the oven to 180 ° C.
Take a square oven dish and dirty the bottom with a few tablespoons of tomato & Basil organic pasta sauce, lay two sheets of lasagne and then add  on a mix of various grilled vegetables and, sprinkle with more tablespoons of past and finally a thick layer of bechamel.
Continue like this until the end of the ingredients.
When finish sprinkle with some black pepper and bake for about 20 minutes + 2 minutes to grill and enjoy!
Buon appetito!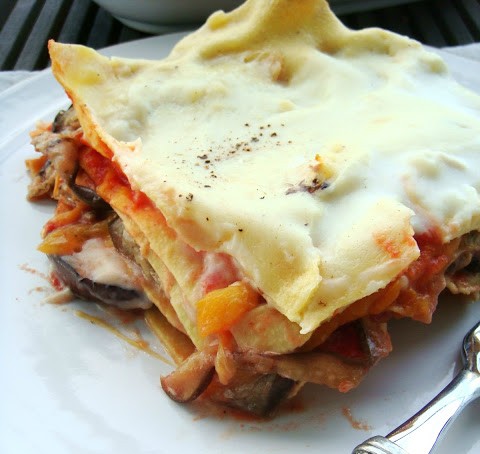 (Thanks to La Cucina di Barbara)