You will need
For the meatballs:
2 whole eggs




50 gr.

grated Parmesan cheese




50 gr.

flour

oo




50 gr.

breadcrumbs




salt

q.b.




ground black pepper
For thefried breadcrumbs:
For the sauce:
1 clove

of garlic




extra virgin olive oil




salt

 
Hoe to proceed
The night before, you will have to soak the beans.
Spend at least 12 hours of soaking the beans cook in salted water.
A cooked anyway pesateli faces, because for the meatballs I have to use an amount equal to 500 gr.
At this point, using a mixer frullateli together with eggs and a little salt. You must obtain a homogeneous creamy sauce.
United always nelmixer the rest of the ingredients of the meatballs and stir again, until the whole you will not be blended well.
The mixture will be soft but not sticky, so it can be molded with the hands.
Form meatballs the size you want. I have not done very large and have gotten about 25.
Prepare two containers for panarle. In one, beat the eggs with a pinch of salt and another put a bit of bread crumbs.
Pass them first in egg and then in bread crumbs.
I recommend that you prepare them all and place them on a plane, so then you have even cooking.
In a large pan put 4-5 tablespoons of olive oil.
When it is hot cuoceteci the meatballs, turning occasionally until they have a golden color will be a little croccantine.
Drain and place them on a plate with paper towels.
In the meantime you have prepared the tomato sauce in the traditional way.
In a large pan put a drizzle of olive oil and a clove of garlic that once browned tear off.
Pour the tomatoes and cook about 15 minutes, or until finish cooking. Season with salt.
Now put the cooked meatballs in the hot sauce above. Turn them gently to cover with the sauce.
Serve hot!
Buon Appetito!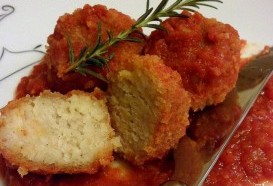 (Thanks to Nella cucina di Laura)