Mini spinach and rice croquettes with oat flakes
You will need
Croquettes:
400gr saffron risotto
1 egg
120gr mozzarella
100gr boiled and squeezed spinach
40gr oat flakes
20gr breadcrumbs
salt
black and white pepper
nutmeg
extra virgin olive oil
Spinace cream
How to proceed
Put the cold rice in a bowl, add the egg, a pinch of salt, nutmeg, black pepper and mozzarella cutted into very small cubes. Mix everything, add chopped spinach and mix again.
Prepare the breading mixing in a dish the oat flakes, the breadcrumbs, a pinch of salt and white pepper. with wet hands, forme some rice balls (big like a nut) and roll them in the breading. Keep aside in refrigerator (also the breading remained in the dish) while you prepare the cream.
Melt the butter in a pan, add the balsamic jelly and stir. Add spinach, salt and cook for 5 minutes. Transfer everything in a blender and blend to obtain a smooth cream. Put the cream into the Pan and keep aside.
Warm up some oil into a pan and cook the croquettes 2 minutes per side. Put them, on by one, on a plate with a paper towel and keep them warm. When you finished cooking croquettes, fry the breading remained in the dish making it crispy. Warm the spinach cream, add the crispy breading and serve it with the croquettes.
Buon Appetito!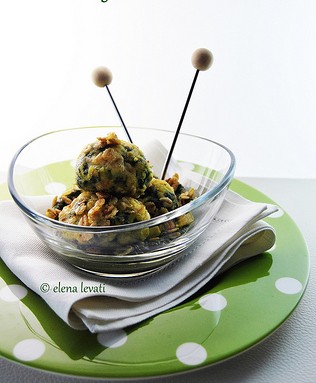 (Thanks to Con un poco di zucchero)