You will need
 150 gr flour cakes and pastries
150 g butter
a pinch of salt
a pinch sugar
milk
How to proceed
Mix the flour with a pinch of salt and 80 ml ​​of cold water, until the mixture is firm.
Wrap in transparent paper and refrigerate for 30 minutes.
With wet fingers, work the butter to form a dough, roll out the dough, put in the stick of butter, fold the edges and spread with a rolling pin, then return in the fridge for 5 minutes.
Roll out on a floured surface so the dough into a rectangle, folded in 3 to square, rectangle and spread again to change direction, fold in 3 and let rest for 15 minutes in the refrigerator.
Repeat this 3 times, place in the refrigerator.
Finally Spread the dough into a rectangle, spread the peach w/ amaretti leaving a rim of 1 cm, seal the ends, spray the crust and bake in a preheated oven at 200 degrees for 25 minutes.
Buon Appetito!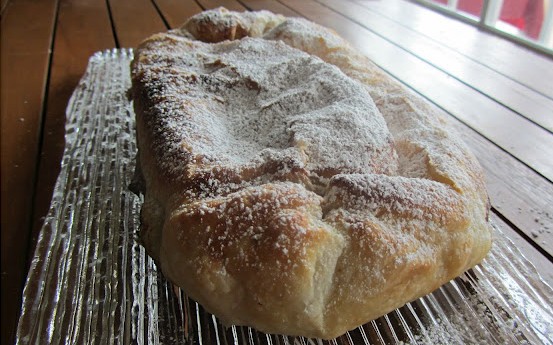 (Thanks to Acquaefarina)