You will need
300 grams of

flour




30 grams of

butter




40

grams of sugar




2 Eggs




a

Pinch of

Salt




120 grams of

Vin Santo




Peanut seed

oil

for frying




500 grams of

vanilla

ice cream



D

ark Chocolate

(

1

tablet

)
How to proceed
Mix flour, sugar and salt.
Add the chopped butter to the mixture of flour and mix well, then add the eggs, absorb them and continue to work by adding the Vin Santo until dough is smooth but not too soft.
Form a ball, wrap in plastic wrap and let rest in refrigerator for at least an hour.
Roll out the dough not too thin dusting with flour both the work the dough.
When you reach the desired thickness, obtained circles of pastry with which you are going to wrap a small cup of steel, from the outside, so as to give the dough the desired shape.
Fry the compound (together with pirottino, to maintain the shape) in abundant oil.
As soon as the pasta is a nice dark golden drain and set to cool on paper towels.
At that point you can remove the paper cups, having first carefully rotating it so as not to break the wafer.
Denocciolare some Apricots in Nebbiolo and pour into the waffle and then cover them with vanilla ice cream.
Garnish the surface with the ciccolato, previously dissolved in a water bath with the aid of a little butter …
Buon Appetito!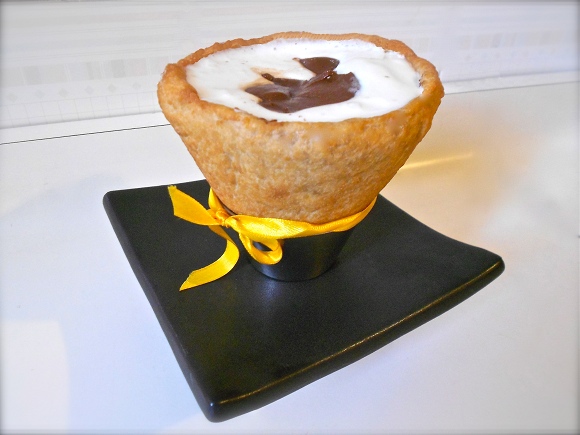 (Thanks to Sto mondo e quell'altro)