Cupcakes with plum's hearth and chocolate
You will need
 40 grams of butter
25 grams of sugar
1 egg
75 grams of flour
1/2 cup of milk
1 teaspoon baking powder
nutella
How to proceed
Let the butter soften at room temperature for an hour, then work it in with the milk, egg and sugared then add the flour and baking powder.
Grease and flour the molds, put a tablespoon of dough to make the bottom, then squeeze the plum and a teaspoon of nutella doing a controversy, cover with the rest of dough, I still put a pinch of cocoa powder on top. Bake at 180 ° C for 25 minutes.
They are delicious freshly baked food with the spoon, or at room temperature as a classic cake, but eye to the heart, is super soft!
Buon Appetito!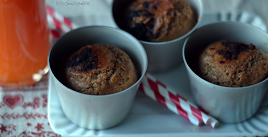 (thanks to Cucina e Cantina)