You will need
a package of frozen puff pastry
an egg yolk
8 apricots
125 gr. granulated sugar
How to proceed
Thaw the dough, put it in a rectangular sheet long enough to be able to get eight squares wide 10 cm.; Remember to leave a little 'dough cut into strips.
Brush the eight squares with red egg, put on each of the pieces of apricot and arrange over, crossed two. strips of dough. Moisten the plate of the oven with a bit 'of water, disponetevi browsed over them and put them in the oven for 10 minutes.
Heat in a saucepan with the apricot jam and brush the browsed this it just out of the oven. Fate finally dissolve the sugar with a little 'of water and just begins to brown, pour it on the cake.
Buon Appetito!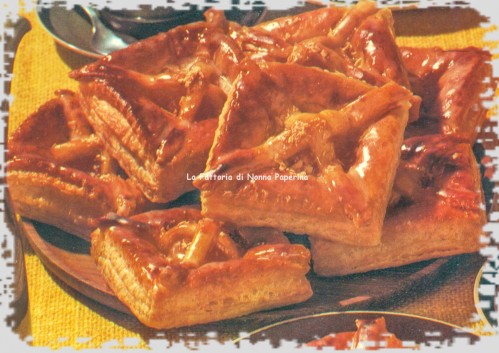 (Thanks to Le ricette di nonna Paperina)