We Plant the tomato
After the nightmare of the spring frosts, the sun shines in the lower Piedmont. In the surroundings of Alba, between the Langhe and the Roero where the Mariangela Prunotto farm is located, the temperatures begin to rise and in the orchards we can easily record temperatures above 25/26 ° C.

Hannibal, the subtropical high pressure, raises the temperatures of the season. Begins the fear of heavy storms due to the imminent arrival of cold air from the north.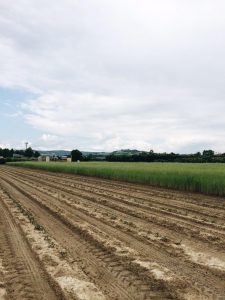 After a green manure, we start to plant the tomatoes for the new year.
Tomatoes are transplanted each year strictly by hand and carefully. The annual crop duration is due to the fact that the plant can't overcome the cold of winter. Every year therefore, exhausted its fruit is eliminated and planted again the following year.
Our tomatoes enjoy an amazing local micro climate. Thanks to the incredible thermal excursions and the quality of the soil, our area is one of the most suitable for the cultivation of fruit. Resulting in the highest degree of sugars in every kind of fruit. A sweeter and more gentle tomato with a great scent. Rich in flavors and delicate and naturally different from other fruits cultivated in areas closer to the sea, influenced by sapidity.
 It is the right time to taste and use our fresh chopped tomatoes in the kitchen. Will remind you of the authentic taste of a fresh tomato, waiting for the new and fresh ones .
And for your everyday pleasure, you can taste our range of ready-to-use sauces. We suggest you the Organic Arrabbiata Spicy Pasta Sauce, Organic Fresh Basil Pasta Sauce, Organic Garden Medley Pasta Sauce and a Organic Bolognaise Pasta Sauce. Strictly made according to the largest Piedmontese homemade tradition with healthy and genuine ingredients, to rediscover ancient tastes and emotions.