You will need
Flour for cakes oo
50 g pumpkin
50 g sugar
40 g butter
3 eggs
120 g extra virgin olive oil
2 tablespoons sliced ​​almonds
Preparation
Put the flourinto the bowl of electric mixer, add eggs and oil, and I mixed for a few minutes, and put the mixture into the mold.
In a saucepan, cook the diced pumpkin with the butter and sugar, pour into the mold with the mixture of sponge cake, and bake at 180 degrees for 40 minutes.
Make the cake to cool, spread the surface of
Apricot jam
and finished with colorful decorations or icing sugar.
Buon Appetito!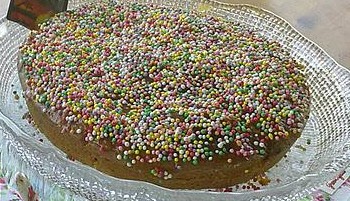 (Thanks to Sississima Acqua e farina)