You will need
– Parmigiano Reggiano cheese
– Moscato wine jelly from Prunotto Mariangela organic farm
How to proceed
Cut the cheese into small pieces rectangular, not too big. Avoid being too regular with the forms, do smaller pieces and larger to obtain pieces of various sizes.
Place the cheese on the parchment paper, and put it in the microwave on full power for 1 minute and a half. Then cooling, divide the chips possibly combined with a knife and, if needed, pass the chips with a paper towel to make them more crisp.
Serve with the Moscato wine jelly from  Prunotto Mariangela organic farm for an outstanding result!
In the pictures you my suggestion presentation:
a bowl covered with a stylish colored handkerchief, inside the chips and jelly.
Buon Appetito!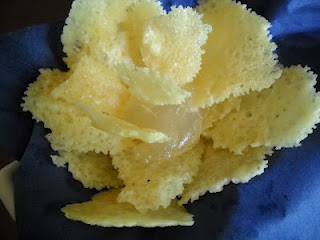 (Thanks to L'angolo della casalinga)