You will need
Four boned/skinned Sea bream fillets
Half a red onion finely chopped
1/4 Red pepper finely diced
1 garlic clove finely chopped
2 inches root ginger grated
large tablespoon fresh corriander chopped
100ml soy
3 tablespoons Chestnut Blossom Honey Az. Agr. Prnotto M.
How to prepare
Heat oven to 180
Apart from the Orata, combine all the ingredients in a large bowl, mix well and add two tablespoons of Honey to start with and taste adding more as neccessary, add the salmon and marinate for about an hour.
Arrange on a baking tray and spoon some of the mixture over each piece, then cover with foil so it is'nt touching the Orata and cook for 6 minutes and serve with vegetables.
Buon Appetito!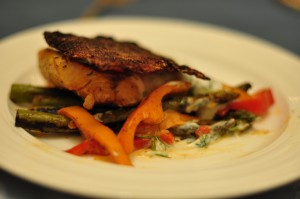 (Thanks for the image LRicharz)