You will need
180g flour 00
3 eggs
100g parmigiano cheese
100ml vegetable oil
100ml milk
Pistachios
1 packet of yeast
How to proceed
The dosage are for a single stencil loaf pan.
Sift the flour and mix it with the eggs, being careful not to leave lumps in the mixture.
Soften everything adding flush the oil and milk.
Grate the parmesan cheese and mix well.
Squeeze the vegetables retain vinegar, cut them in chunks if necessary and pour in the mixture, along with the pistachios. Finally add the baking powder sifted.
Taste and add salt if necessary.
Bake for 30 ' at 180 ° C.
Buon Appetito!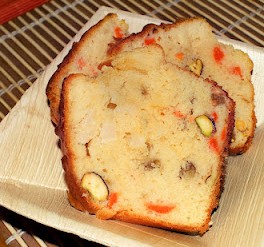 (Thanks to Torsolo di mela)